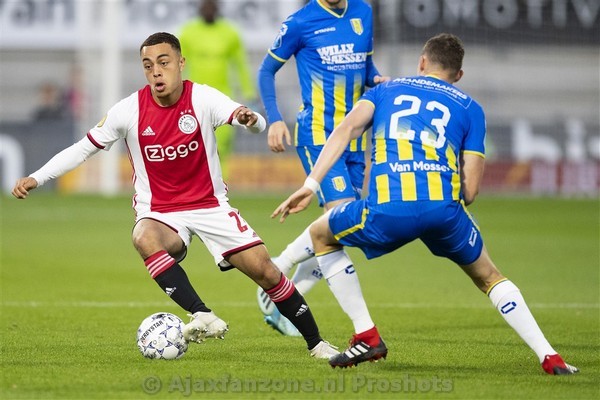 Sergiño Dest lijkt niet alleen op weg naar Bayern Munchen; de verdediger van Ajax schijnt ook al daadwerkelijk in Duitsland te zijn! Het Duitse fanaccount iMiaSanMia merkte vandaag op dat Dest bij een foto op zijn Instagram tijdelijk zijn locatie deelde: Paulaner Nockherberg. Die plek ligt op vijf minuten rijden vanuit het centrum van München en naar verluidt zou Bayern daar juist deze dinsdag een fotoshoot hebben. Dest verwijderde de locatie inmiddels, maar de screenshots waren toen al gemaakt.
Sergiño Dest's latest post on Instagram had the location 'Paulaner Nockherberg' where Bayern's photoshoot took place today. Location has now been removed (screenshot taken by our German account @iMiaSanMia_GER) pic.twitter.com/VJThOL5B6a

— Bayern & Germany (@iMiaSanMia) September 22, 2020
FC Barcelona lijkt inmiddels zich neergelegd te hebben bij het verliezen van de strijd om Dest. Dinsdagochtend kwam het nieuws nog naar buiten dat FC Barcelona zich officieel bij Ajax gemeld zou hebben voor Dest. Het vertrek van Nelson Semedo naar Wolverhampton Wanderers is echter nog altijd niet geregeld en dus heeft de club het geld nog niet om een bod uit te brengen op de Ajacied. De Catalanen lijken door te schakelen naar Max Aarons van Norwich City, zo weet The Guardian vandaag te melden. De Engelse club wees eerder al een bod van Barcelona af om Aarons te huren, maar een nieuw bod lijkt er te komen. Aarons zou zo'n twintig miljoen pond moeten kosten.