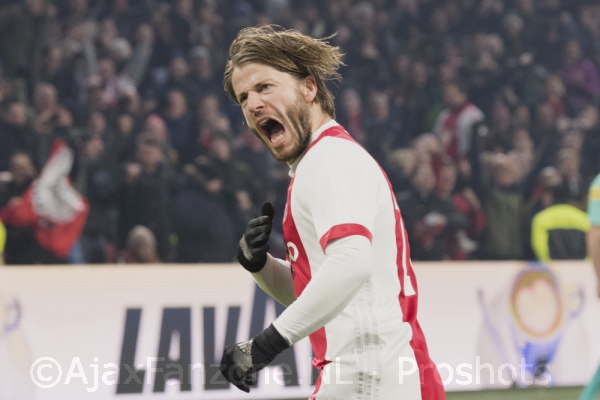 Lasse Schöne is inmiddels vertrokken naar het Italiaanse Genoa maar vergeten doen ze hem bij Ajax zeker niet. Ajax heeft namelijk de maandelijkse trofee voor de speler die het doelpunt van de maand maakt vernoemd naar de Deen. Deze krijgt vanaf nu de Lasse Schöne Trophy.
Schöne speelde van 2012 tot en met 2019 voor Ajax, wist daarin 287 keer te scoren en wist regelmatig de prijs voor Doelpunt van de Maand in ontvangst te nemen. 'Ik ben zeer vereerd dat de winnaar van het Doelpunt van de Maand voortaan de Lasse Schöne Trophy ontvangt Een hele mooie waardering. Ik hoop dat er nog veel mooie goals en winnaars gaan komen', aldus een trotse Schöne die over twee jaar in een andere functie weer wil terugkeren bij Ajax. 'Het was een fantastische tijd. Iedereen weet hoe ik over Ajax denk. Het is zeker ook niet een vaarwel, eerder een tot ziens. Na mijn carrière kom ik ook zeker terug. We hebben hier alles opgebouwd'.
Noa Lang ontvangt als eerste Lasse Schöne Trophy
Met zijn mooie goal tegen FC Dordrecht is Noa Lang de eerste Ajax-speler die de Lasse Schöne Trophy in ontvangst mag nemen. Hij is de maker van de Goal Of The Month August.
Bron: Ajax.nl